Melissa Caddick podcast reveals lies about first husband Anthony Byron Caddick
When confronted about her affair, Caddick cleaned out their joint bank account and returned immediately to Sydney with their young son, several friends and relatives have told the podcast Liar Liar: Melissa Caddick and the Missing Millions.
She then set about systematically destroying her husband, attributing her own character traits to him. Melissa Caddick maintained her ex-husband was a controlling narcissist and a con artist, who had been caught cheating on her.
Her friend Kate Horn told the podcast, Melissa tried to "poison everyone's minds against Tony by saying how terrible he was and abusive and threatening." She has since learned none of those things was true, Horn said.
A relative revealed that Melissa's lied to her extended family, saying she had "escaped" from the UK "because Tony was abusing her".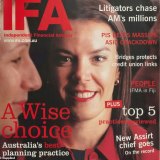 Not long after Caddick arrived back in Sydney in 2012, her friend Kate Horn became her first victim. Caddick soon ensnared a number of others.
Instead of investing their money, Caddick used their funds to rent a five-bedroom prestige property in Rose Bay. She later acquired her own house and an apartment for her parents.
The stolen funds were also splashed out on couture clothes and jewellery worth millions of dollars. She bought her second husband a $390,000 sports car and took him on lavish holidays.
A decade…